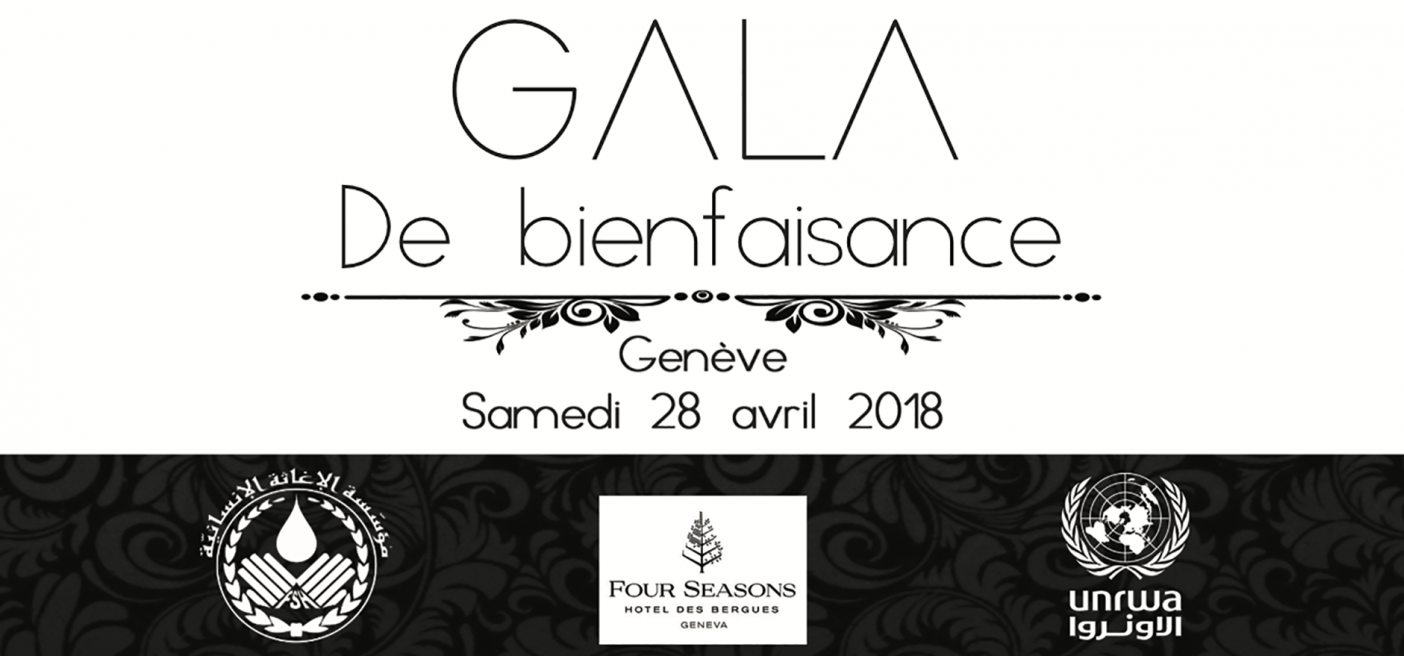 A magnificent evening for a noble cause
The Humanitarian Relief Foundation is pleased to welcome you to its first Charity Gala on April 28 at 7:00 pm. The gala will be held in Hotel des Berges – Four Seasons, the most prestigious hotel in Geneva. This grand luxury hotel overlooking Lake Geneva dates back to 1834 and offers one of the finest surroundings in the city.
The purpose of the gala is to raise funds for a project to support suffering children in Gaza and their families. The project will provide psychological and psychosocial support to these children to help them cope with the ongoing humanitarian crisis and the daily challenges they face.
A trusted partner
The psychological support project will be conducted in partnership wiith UNRWA (United Nations Relief and Works Agency for Palestine Refugees in the Near East) as part of its community-based mental health program (UNRWA Community Mental Health Program). The Foundation's financial contribution will strengthen UNRWA's support structures and interventions for children and families affected by this protracted humanitarian crisis. Mental health specialists will identify and support children who have developed or are likely to develop serious psychosocial problems through individual and targeted group interventions.
An entertaining program and a delicious dinner
A delicious appetizer will mark the opening of the Charity Gala* and will provide opportunities for rich exchanges and discussions. Following thereafter is an exquisite dinner** prepared by a renowned chef and a varied program containing both entertainment and reflection. This sophisticated Charity Gala dinner will be full of surprises and a carefully prepared program of entertainment.
If you cannot attend the gala dinner but want to support the project in Gaza you can make a donation here. Your support is much appreciated.
* Evening attire required
** Menu of fish. No alcoholic beverages will be served
Practical information:
Address: Quai des Bergues 33, 1201 Geneva
Public transport :
Stop Mont-Blanc: Bus 6, 8, 9, 25, G
Station Gare Cornavin: Tram 12, 14, 15 and 18 / Bus: 1, 3, 5, 6, 8, 9, 10, 19, 25, 61, F, NA, NP, Z
Parking close to the hotel:  
Mont Blanc (1400 places)
Cornavin (841 seats)
Night rates (7pm - 7am): 1CHF / hour
Tickets:
Book your seats below
One person: 200 CHF
A table for 10 people: 2000 CHF
The purchase of a seat entitles you to the issue of a tax receipt.  Do not hesitate to ask for it.